In French, there is a proverb that " beauty lies in Simplicity". Shun Kanso santoku is an actual representation of this proverb. Kanso is a design principle based on Zen philosophy that means simplicity. And this simplicity is achieved by focusing solely on the most essential part of the knife. When it comes to shun knives, essential parts mean high-performing steel, super sharp edge, precise cutting control, and proper balance.
As an Asian-style chef's knife, shun kanso santoku greatly handles traditional push cuts as well as Western-style rocking cuts. If you want to know more about this santoku knife let's dive deep into this shun kanso santoku review. In-depth features details along with customer's thoughts and questions about this knife are added here.
Quick Overview
The blade is made with Japanese high carbon AUS10A vanadium stainless steel.
Blade has a rustic look and heritage finish that hides scratches
Very lightweight, only 7 ounces.
Extreme sharp hand sharpened 16-degree cutting angle.
Tough hard 60 Rockwell hardness.
The handle has a contoured shape ensuring a comfortable grip.
The handle is constructed of tagayasan which is known as "iron sword wood".
7-inch long blade with a 5.5-inch handle.
Limited lifetime warranty with free sharpening.
Shun Kanso Santoku 7 Inch Hollow Ground Premium Knife Review
Where it's made
Each shun knife is handcrafted in Seki, Japan. This city is known as the japanese knife-making capital for hundreds of years because bladesmiths are making swords here since the 14th century. Shun is dedicated to maintaining their ancient knife-making tradition so each piece of the knife is hand-made by expert craftsmen using more than 100 steps. Along with the traditional handcrafting process, they ensure premium material and modern technology.
If you want to know about the Chef's Knife version of Kanso Line . Then here is full Shun Kanso Chef's Knife Review
Blade material
Quality steel or blade material is essential to the performance of the cutting edge. Like all other shun knives shun kanso santoku 7 inches is made with high carbon and refined stainless steel. Kanso line is made with Japanese AUS10A blade steel which is high carbon vanadium stainless steel. The carbon component adds more hardness and durability to the steel. And vanadium with other components makes the blade rust-resistant and develops strength. So, this knife retains its razor sharp edge for very long.
Blade Design
As a santoku knife shun kanso santoku has an Asian-inspired chef's knife design. This design is perfect for both Asian and western cuts. The whole blade has a heritage finish that gives it a rustic look. Heritage finish blade hides scratches nicely and the beautiful rustic look improves with age.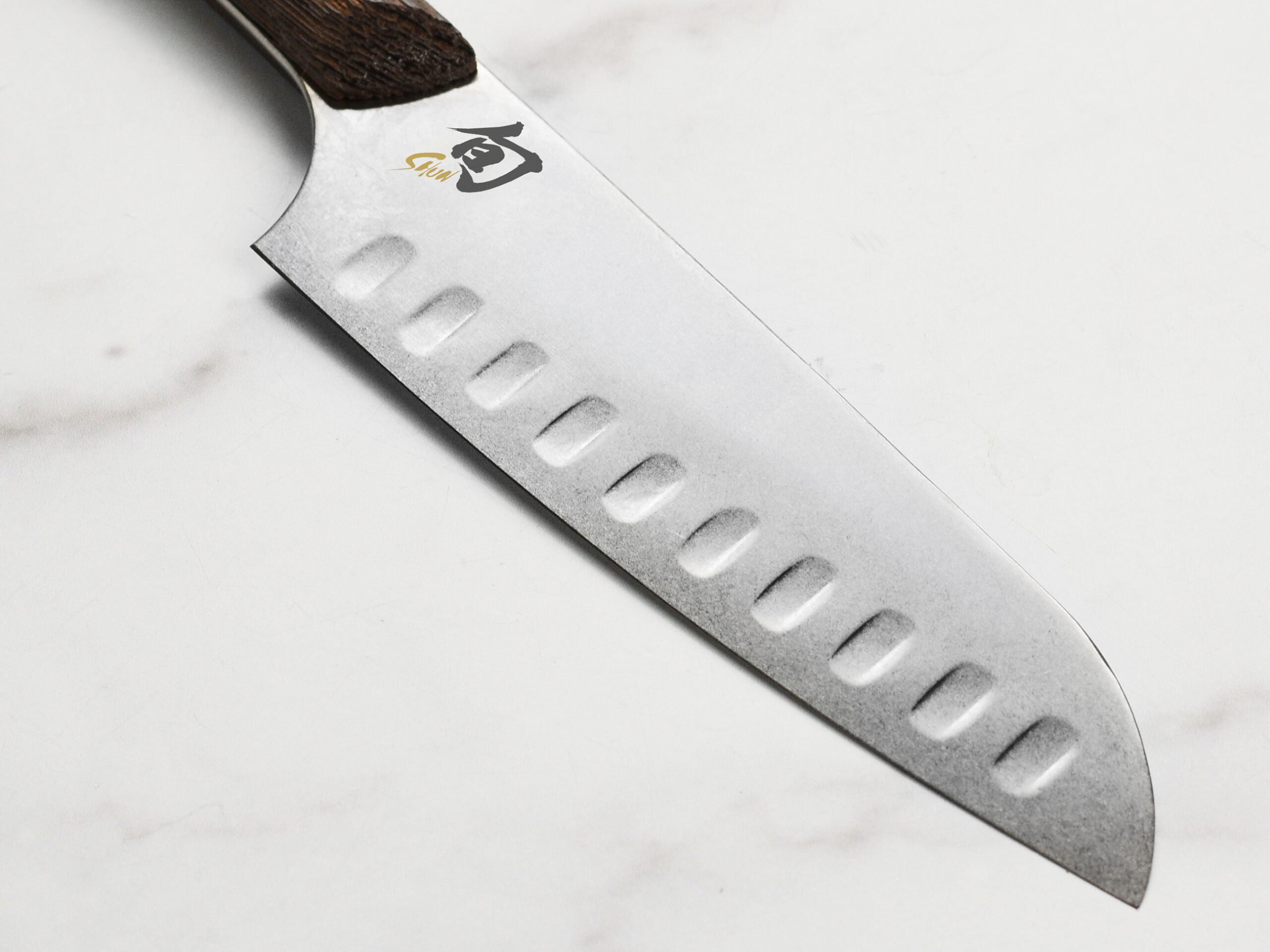 There is small air pockets on the bottom half of the blade. These air pockets are not only for beauty, it helps to prevent the sticking of food while cutting. Moreover, you will find a beautiful shun logo on the blade that gives it an elegant look.
Sharpness and edge
The sharp edge ensures precise and effortless cuts. So, a proper cutting angle is necessary for a quality knife. shun kanso santoku 7-inch hollow ground knife has a hand-sharpened 16-degree cutting angle. This is a sharpener than any western chef knife. Expert craftsmen hand sharply every piece of the knife to ensure the perfect sharpness. Whether cutting meat, dicing food, or chopping vegetable this sharp edge will make your work quicker and easier.
Moreover, it is a double bevel blade, tath means it has the same cutting angle at both side. So, both left and right-handed users can use this comfortably. And as the blade is very hard, it retains its edge for very long without sharpening.
Tang
Shun kanso 7 inch santoku is a full tang knife that means its blade goes all the way through the handle. Full tang knife is always preferred over half tang knife of the knife without tang. Because full tang construction provides more strength to the knife. It also develops proper balance and cutting control to the knife.
Handle material
Shun kanso santoku knife's beautiful handle is made of tagayasan wood which is known as iron sword wood. Traditionally, tagayasan is used in Japan for making samurai sword handle. This is an extremely dense wood that provides more strength and durability to the handle.
Handle Design
Shun kanso 7 inch santoku handle features a contoured shape with a rustic look. This shape is simply beautiful while providing easy cutting control. This handle is angled which ensures a comfortable chef's grip and precision cutting. The end part is thicker than another part of the handle that prevents the hand from slipping while use. Moreover, the handle is equally comfortable for both left or right-handed cooks.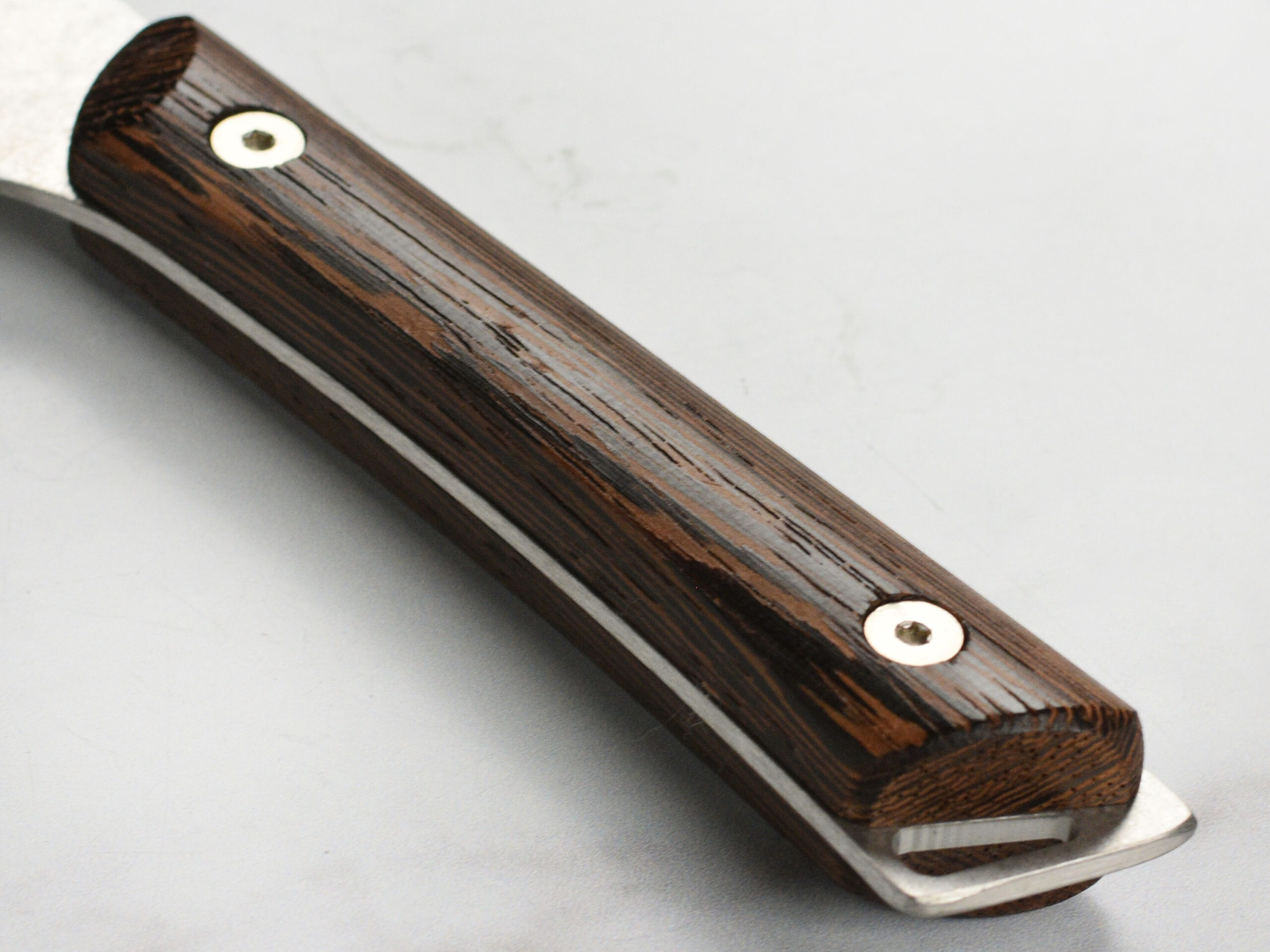 There is two beautiful steel pin in the handle that adds more durability as well as a beautiful look. The tang is visible in the handle and it is extended at the end of the handle with a triangular shape.
Size
Shun Kanso Santoku Chef's knife's length is almost similar to all other shun santoku knives. Its blade is 7 inches long with a 5.5-inch handle. This size of the handle is comfortable for both users with small hands and large hands. And the blade size is the most popular size for any Asia-inspired chef's knife or santoku knife. And, when comes to thickness, this knife is very thin.
Weight and Balance
A lightweight knife can ensure tireless cutting for a long time. Shun kanso 7 santoku is a pretty lightweight knife with only 7 ounces. This weight may look a little heavier to you but the weight is very well distributed that you will hardly feel it when you will hold it in your hand.
Full tang, handle the weight, blade weight all these things contribute to proper balancing of this knife. Its balance is almost at the connection point of the handle and the blade. So, users get used to it very easily.
Clean and maintenance
A knife with proper care and maintenance can last for years, where even a very high-end knife with proper care can become useless very quickly. When it comes to shun kanso Asian-inspired chef's knife, it is very easy to care for and maintain.
Kanso Santoku supports the only handwash. Washing it in the dishwasher may cause chips and damage to the edge. Just wash it with water after every light use and you may use soap and cloth after heavy use. Put the knife in an open place after every wash so that it dries properly.
Never put the knife in the drawer without a sheath. It may cause accidents or damage to the knife edge. You can also use and wooden block to store the knife and try to not use a magnetic knife holder.
How the knife will feel in your hand
A knife should ensure a comfortable feeling when we hold it in our hands. Otherwise, the beauty can't help us in the kitchen in long run. Shun kanso santoku chef knife design has a combination of Asian and western styles. So, the knife is comfortable for both rocking and chopping cuts. The razor-sharp edge ensures an effortless and precise cut every time. With the combination of sharp edge and lightweight, the knife will feel like a part of your hand.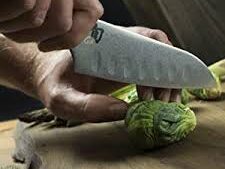 The handle has an angular shape that fits nicely in the grip and the thick end of the blade prevents slipping of the hand while using. So, a combination of all this quality with the proper balancing will give you a smooth experience and all these things may be already clear to you from this shun kanso 7 santoku review.
Warranty
Shun ensures a limited lifetime warranty for their all kind of knives. If you find any kind of manufacturing defect after buying just send it back to them. Shun will also give you a free sharpening service. If you send your knife to shun they will shapen the knife with their expert craftsmen without any charge. So, every time the knife will appear like a new knife to you.
Customer's thought
Most of the review about shun kanso 7 santoku is the positive review with very few negative mentions.
One user mentioned that the handle doesn't cover the tang fully. If you have a large hand you may feel the end tang portion and it may be a little uncomfortable while using. Another user was not satisfied with only hand wash. He said if you wash it in a dishwasher for long it may cause damage to the steel.
And most other reviews were positive and explaining about the features as I have mentioned in this Shun Kanso santoku knife review. On user was happy that the blade itself looks very antique and holds well to scratches. Another person mentioned that this knife is very sharp and you can feel the high-quality craftsmanship.
Pros
This whole shun kanso 7 inch santoku review explains the features and pros of this knife. Let me gather them here briefly.
Rustic blade hides any kind of scratches.
Because of the air pockets, food doesn't stick on the knife.
Razor-sharp edge with the effortless precise cut.
Comfortable handle.
The handle doesn't slip from the hand.
Perfect for both rocking and chopping cuts.
Comfortable for both left and right-hand users.
Very lightweight so it doesn't create pressure on the wrist.
Comes with a limited lifetime warranty.
Free sharpening until you own it.
Cons
From this whole Shun Kanso Santoku review, we got that this knife has very few ignorable drawbacks.
Hand washes only. Washing it in the dishwasher may damage the knife.
As the edge is very sharp, it needs extra caution while using.
FAQ
How this knife can most safely be sharpened?
To sharpen Shun Kanso santoku knife you can use Shun sharpening stone. But it is better to use shun lifetime sharpening service as mentioned in the warranty part of this Shun Kanso Santoku chef knife review. Just send your knife to shun they will sharpen your knife like a new one for free.
Does this knife come with a cover or case?
No, it doesn't come with any cover or case. It just comes in a nice beautiful box. You can buy a blade guard or sheath for this knife. An 8-inch sheath will work well for it.
Is this a forged or stamped knife?
Yes, shun cutlery kanso hollow-ground 7 santoku knife is a forged knife. Every piece of Shun knife is hand forged by expert craftsmen using traditional Japanese knife-making techniques.
Is this knife okay for left-handed users?
Both left and right-handed users can use this knife comfortably. All shun knives feature ambidextrous handles except Shun classic series. Moreover, its blade has the same cutting edge on both sides. So, it is properly fine for left-hand users.
Conclusion
I am sure that, if you have gone through the whole Shun Kanso Santoku review you have got an in-depth idea about this shun santoku knife. It is an Asian-inspired chef's knife with premium qualities at an excellent price.
Whether cutting meat, grilling out, dicing food, chopping different vegetables, or preparing a steak dinner or peeling fruit, this high-end Santoku chef knife will cut down unnecessary prep time. And, will make your kitchen skill smooth and effortless with its multi-purpose qualities.
Other Shun Santoku Knives:
1. Shun Premier Santoku Review
2. Shun Premium Chef's Knife Review
3. Shun Classic Santoku Review