When it comes to a chef knife, which features or qualities do you want? Do you look for a razor-sharp edge? Or do you want a lightweight knife with proper balancing? You may even want a comfortable and slipless handle.
You will find a variety of knives in the market. But if you want an all-rounder chef knife with all those versatile qualities then Miyabi evolution can be a great choice for you. Miyabi is well known for its fit and finish in every piece of the knife. Miyabi evolution is one of their high-end knives at an affordable price.
If you want to know more about this knife let's dive deep into this miyabi evolution chef knife review article. I have also added user experience, and customers thought about this knife here.
Quick Overview
Made in Seki, Japan using traditional Japanese knife-making techniques.
Blade is made from revolutionary Fc61 fine carbide steel. 
61 Rockwell hardness, that's very tough and retains an edge for long. 
Hand honed 8 to 12 degree super sharp cutting angle.
Blade is beautifully polished to a mirror finish. 
Blade is 8-inch long with a 5-inch handle.
Handle is made with durable POM 
Handle features a triple-riveted ergonomic shape with a comfortable grip.
Comes with a limited lifetime warranty. 
Miyabi Evolution is part of our Best Miyabi Knives Review List.
Miyabi Evolution 8-inch Chef's Knife Review(Miyabi 400fc review )
Where it's made
All miyabi knives are crafted in Seki, Japan which is known as the Samurai sword making capital of the world. Expert craftsmen of Seki have been making swords and knives for centuries using their traditional techniques. Miyabi is owned by another famous german knife maker Zwilling. So, you will find the merge of Japanese craftsmanship with German engineering expertise in every piece of miyabi knife.
Blade material
Quality blade material ensures durability and longevity. Miyabi evolution chef's knife is made from revolutionary fine carbide Fc61 steel. Its fine carbide distribution results in a blade that holds a razor-sharp angle. It ensures extreme durability without any risk of chipping under day-to-day normal use. Blade material is enriched with carbon, chromium, cobalt, and essential components. The carbon component makes the blade tough and hard. Chromium adds rust resistance to the knife and cobalt with other components adds durability and strength.
Blade Design
Miyabi evolution chef's knife features an authentic and thin japanese blade profile. It has curves at both bottom and top parts making its design compatible with both Asian and western style cutting. Its comfortable features like the rounded spine, heel, and bolster reduce slicing or cutting fatigue.
The whole blade is beautifully polished to a mirror finish. You will find an engraved miyabi logo on the blade body that gives this knife an elegant look.
Sharpness and edge
Having a good sharpness in a knife is compulsory to have an effortless and smooth cutting experience in the kitchen. So, miyabi doesn't leave any effort in this feature. Each
miyabi evolution 8 chef's knife is hand sharpened to an incredible 8 to 12 degree cutting angle. You will hardly find any chef knife even any Japanese chef knife with this sharpness. So, it can be called the ultimate kitchen knife for precise and tireless cutting.
This extreme sharpness is ensured by expert artisans. They use three-step hand hounding technique and dry sharpening process for this exceeding sharpness. Finally, each blade is polished and sandblasted to have katana edges.
Miyabi evolution 8-inch chef's knife is a dual bevel knife that means it has a cutting angle at both sides with long-lasting edge retention.
Hardness
The durability and edge retention of a knife depends mainly on its blade hardness. And it's hardness depends on the knife forging process and the component of the material.
Miyabi evolution knife has an astonishing 61 Rockwell hardness. This kind of value in the Rockwell scale is not so common to find. This extreme hardness is ensured by the double Friodur hardening process. This hardening process improves the microstructure of the steel that improves cutting performance, durability, and astonishing corrosion resistance. Finally, its hardness ensures its edge retention for a long time.
Handle material
Miyabi evolution chef knife handle is made from POM which is a durable polymer type material. As it's not wood or any wooden material it is water and moisture resistant. Moreover, it doesn't harbor bacteria so it doesn't rust so easily and lasts long. POM ensures that the handle nestles comfortably in the grip of the hand.
Handle Design
Miyabi evolution chef's knife features a triple-riveted ergonomic handle. Its handle design is different from other miyabi knives. You will find western influence in its handle. So, it ensures fatigue free cutting and supports both Asian and western cutting. Curves at the handle belly fit nicely in the palm and the wide portion at the handle end saves the hand from slipping.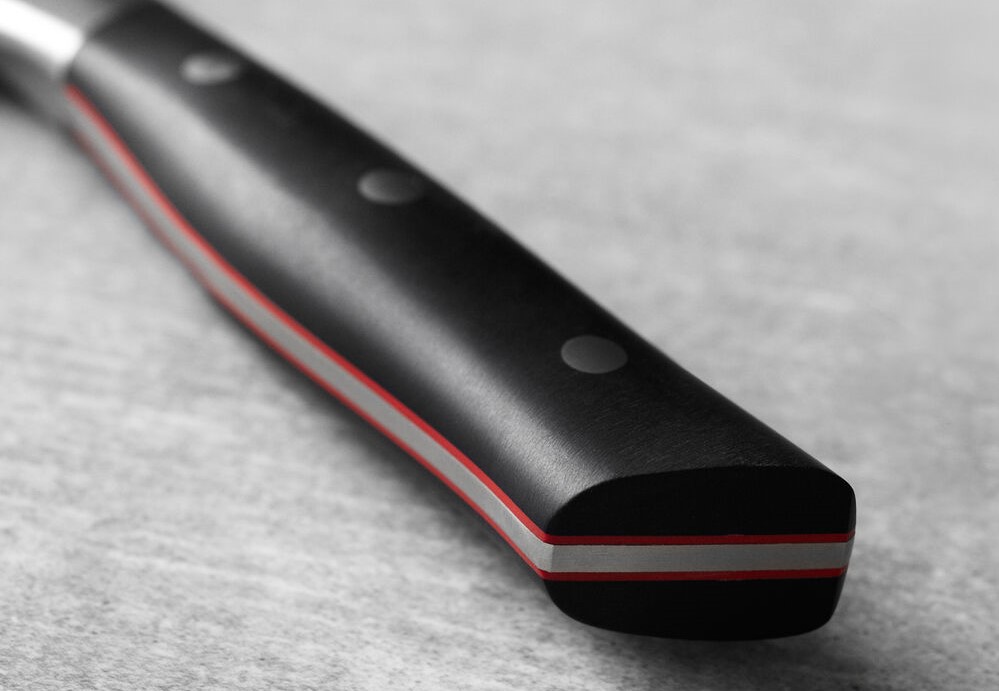 Striking red spacers and visible blade portions make the handle more beautiful.Its handle undergoes a nine step finishing process only to ensure the perfect ergonomic design.
Tang
A portion of the blade that goes through the handle is known as knife tang. In a full tang knife, it goes through all the handles to handle the end. Full tang makes a knife more durable that's why full-tang knives are always preferred over no tang or half tang knife. Miyabi evolution knives are also full tang knives. Its tang is visible from both the top and bottom parts of the handle. Its tang contributes not only to durability but also to balancing and beauty.
Size
Miyabi Evolution 8 chef's knife features an 8-inch long blade with a 5-inch handle. It's the most used knife blade size because it's perfect for users with both small or large hands. Moreover, it can serve the task of both large and small blades.
Weight and balance
This knife is pretty lightweight compared to any hand-forged knife. It's only 9.6 ounces. So, you will not feel any pain in your wrist even after a long cutting.
Blade, handle weight, tang, and all these things of Miyabi evolution 8 chef's knife contribute to its proper balancing. Its weight is very well distributed so you will hardly feel its weight in your hand. Moreover, this knife will work as a part of your hand. Its balance is almost at the connection point of the knife blade and handle.
Clean and maintenance
Proper care and maintenance are necessary for the longevity of a knife. In the same way, proper cleaning and maintenance are important for miyabi 400fc evolution knives.
Like all Japanese chef knives, miyabi evolution 8-inch chef's knives prefer hand wash only. Washing it in a dishwasher may cause chips or damage to the knife. So, after every light use just clean the knife with water and after heavy use, you can wash it with soap and cloth.
Though the full knife is water-resistant, it is better to dry it out before storing it. So, put it in an open place after every wash so that it dries properly.
This knife doesn't come with any sheath so it's necessary to use a sheath or wooden block to store this knife. Never put it in a drawer without any sheath that may damage its edge and harm you. It's better to not use any magnetic knife holder.
How the knife will feel in your hand
A knife may look very beautiful or made with high-quality material but in the end, we care for one thing most. That is how the knife feels in hand while working. With the sharp edge, a lightweight miyabi evolution chef's knife will feel like a part of your hand.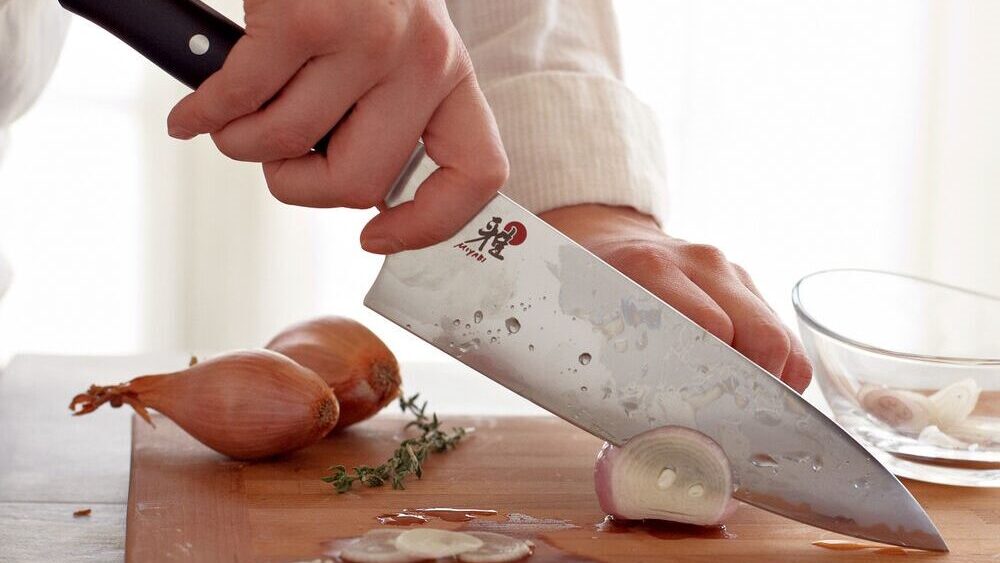 Its razor sharp edge ensures effortless cuts so while working you won't need to create pressure. And as it is pretty lightweight you will not feel pain in your wrist after a long cutting task.
With the ergonomic shape, its handle fits properly in the grip so while working it will not slip from hand. Proper balancing and comfort oriented features like a rounded spine, bolster and heel reduce cutting and slicing fatigue. And this knife is easy to hold in either a Western or Eastern grip.
Warranty
Miyabi is known for their perfection in every detail of their knife. They try to provide the best quality material and traditional making process in their every piece of work. So, they have full confidence in their knives. So, miyabi provides a limited lifetime warranty on all knives. If you find any manufacturing defects in the knife just send it back to miyabi . They will ensure proper customer service for you.
Customer's thought
If you look for customer's thoughts and reviews about miyabi evolution chef knife, you will find that most of the reviews are positive reviews with very few negative reviews.
That few negative feedback was about the cleaning process of this knife. They complain why this knife is only hand wash safe. It may cause damage to the knife if you put it in the dishwasher.
As I have mentioned through this whole miyabi evolution 8 chef's knife review, a lot of users mentioned the quality and features of this knife. One user was so happy with this knife that he mentioned it as a dream for professional kitchen chefs. He also said that it is comfortable for hours of use and this blade stays crisp and even. Many other users said it's super sharp, feels great in hand, and cuts through lemon like butter.
Pros
Till now it should be clear to you from this miyabi evolution knife review how those positive sides and features of this knife can add value to your kitchen. Let me explain them briefly.
It's super sharp and cuts through anything like butter.
Lightweight and comfortable for hours of use.
The ergonomic handle fits properly in hand.
Handle ensures slipless grip.
Feels great in hand.
Rock-solid hardness.
Very affordable.
Retains its edge for a very long time.
With proper care, it looks new even after long use.
Proper balancing.
Comes with a lifetime warranty.
Cons
If you have gone through this whole miyabi evolution review, you may know that this knife has very few drawbacks, most of which are ignorable.
It's not dishwasher safe, it prefers proper hand wash only.
Doesn't come with any sheath, so you have to use an extra wooden block or sheat.
FAQ
Is miyabi evolution single bevel or double?
This knife is a double bevel. That means it has the same cutting angle at both sides.
Can left-handed people use it?
Yes, both left and right-handed people can use this knife comfortably. Its handle doesn't have a curve on any specific side; it has the same structure on both sides. Moreover, it is a double bevel so this knife is comfortable for both left and right hand users.
What is the degree of knife edge?
From this miyabi evolution knives review, you have known that miyabi knives sharpened their knife at fewer angles compared to other chef knives. It has an 8 to 12 degree cutting edge on both sides.
What is the easy and best way to sharpen this knife?
The easiest way to sharpen this knife is to use a Miyabi brand handheld sharpener. 
5. What are the differences between miyabi evolution and kaizen?
This two miyabi knives have many differneces as well as some similarites. They are different in term of blade design and material. Their handle design and material are also different. To know more you can go through this detailed Miyabi evolution vs kaizen comparison.
Conclusion
Every piece of miyabi evolution knife is a combination of the hard work and skill of expert artisans. It takes more than 42 days and hundreds of steps to create one knife worthy of the name Miyabi evolution. So, I think you have got a clear idea about the quality and features of this knife from this detailed miyabi evolution 8 chef's knife review.
So, if you want to have a knife that will make your life easier in the kitchen you can go with this knife. It will be a proper choice for both an amateur home cook or a professional chef.
Other Miyabi Knives:
2. Miyabi Kaizen Chef's Knife Review
3. Miyabi Fusion Morimoto Review