The word miyabi means elegance and pleasure in Japanese. Similar to the name miyabi knives are known for their quality , beauty and elegant look. For years, Miyabi knives are being handcrafted in seki ,japan by the expert Japanese craftsmen. They use traditional hand forging techniques .
Among the large collection, miyabi birchwood sg2 is one of the high end and elegant knife of miyabi. So, if you are looking for a beautiful, lightweight knife with great quality and durability, then the miyabi birchwood chef knife can be a perfect for you. This knife will help you to make your kitchen works smooth with razor-sharp cutting, chopping , slicing and proper balancing.
I have written this detailed article about Miyabi Birchwood Sg2 review . Different aspects, customers thought about this knife are also added here to provide you with a clear idea about the features of this knife.
Quick Overview:
Blade core is made with sg2 super steel with a total 101 layer of damascus steel. 
Flower Damascus design on the blade is unique and increase the durability of cutting core
It's rockwell hardness is 63 that indicates a very hard blade. 
It is a 8 inch blade with 5.39 inch handle
Cutting edge is hand honed to 9.5-12 degree that's razor-sharp
Handle is made with karelin birchwood.
D shape handle is different from other knives . The slight arc of D at upper side gives a comfortable grip
Full tang blade provides more durability
Nicely polished spine with better pinch grip
Limited lifetime warranty with proper condition
Miyabi Birchwood is a part of our best miyabi chef's knives reivew list.
Miyabi Birchwood Chef's Knife Review (miyabi 5000mcd gyutoh review)
Where it's made
Miyabi knives are handcrafted in seki, japan which is known as the knife capital of japan.
It is a part of the famous German knife company zwilling. Zwilling is one of the famous and oldest knife making companies in Solingen, Germany.
So, we can get the excellence of German engineering and Japanese craftsmanship in miyabi knives. These knives are made by those expert bladesmiths who used to make well known Japanese Katana swords. So, there is no doubt about the quality of miyabi birchwood.
Blade material
Blade core is made with Sg2 which is known as super gold high carbide powder steel .The high amount of carbon in the Sg2 steel adds durability and hardness to the balde. And the core is protected by 100 layers of damascus steel at both sides. Those 100 layers are made with two types of material, on a softer steel layer and then a harder steel layer .Exactly how Japanese katana were made. The harder steel layer gives required hardness and the softer steel layer adds flexibility to the blade.
The full tang blade adds durability in the blade along with proper balancing for regular use.
Blade Design
Your eyes will be attached to the beautiful exterior at your first sight. The flower damascus pattern on the blade is very unique that you will rarely find on any other blade . As this is hand forged even the unique flower damascus design is different for every piece of miyabi birchwood sg2. This is not only for beauty, it adds durability.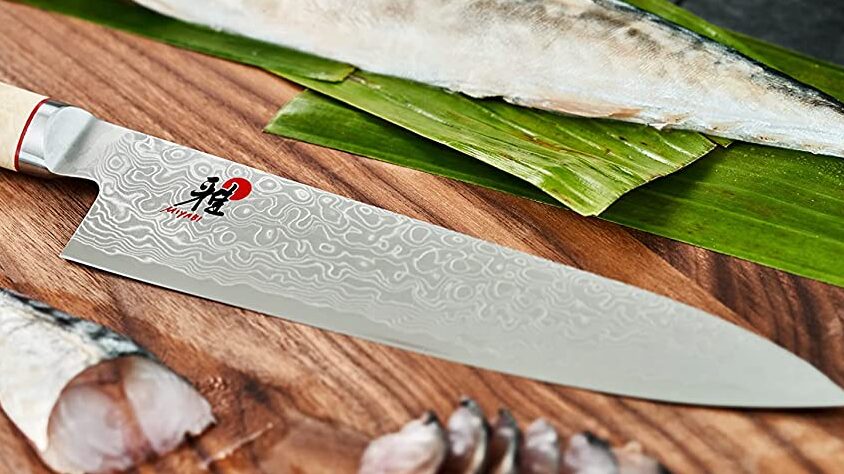 It has an authentic thin japanese profile. That means the knife is pretty thin and it has a very slight belly at the button with a sligh curve also to the side. As the cutting belly is not so wide so it is not a rocking knife at all . 
Sharpness and edge
This knife has a tremendous hand hounded cutting edge of 9.5 to 12 degree. It's sharpening process is an ancient traditional Japanese process called Honbazuke. This 3 step honbazuke method were used by japanese craftsman to sharpen history famous Katana sword.
In the honbazuke method , after giving a cutting angle between 9.5 to 12 the blade is grounded using a vertical rotating stone. Next it is sharpened using a horizontally rotating sharpening stone and finally the blade's edge is polished using a leather block that ensures razor sharpness.
This incredible sharpness makes the knife perfect for cutting , choping , slicing without any pressure on hand. And the edge will last for long as it has a very hard cutting core.
Hardness
On the rockwell hardness scale, miyabi birchwood chef knife has got 63 which is quite harder than any other knife of it's competition. The 4 step cryodur hardening process and sg2 cutting core steel ensures this hardness.
The cryodur ice hardening process is an innovation of miyabi. At first, the blade is heated up in a vacuum sealed oven then cooled down to normal room temperature. In the next step, the blade is freezed to -196 degree celsius (-321 Fahrenheit). This heating and cooling process helps the blade gain this rock hardness ensuring enough flexibility.
This tough hardness ensures long edge retention and corrosion retention. The hard blade edge retains its sharpness longer than soft blaes. But with increasing hardness you have to increase your consciousness while chopping meat bone with this knife.
Handle material
Handle material of miyabi birchwood 8 chef's knife makes this knife special from other miyabi knives. It's made from natural karelian birch wood handles. This is known as a precious handle material with a beautiful look. Different thing here is that instead of having a smooth finish the knife carries the characteristics of wood . You will really feel the handcrafted piece of tool because of the feel of natural wood.
Handle Design
Miyabi birchwood sg2 chef's knife has a D shape handle but it's little different from other knives. Because it is slightly shaped not like typical D shaped so you can hold it with your left hand also. Even with my left hand it feels very comfortable. The curve of D is at the right side but not at the middle , it's actually higher up. So, while holding the knife in pinch grip or non-pinch grip your first knuckle is slightly higher up. In this way the D shape a little higher up makes miyabi birchwood knives extremely comfortable.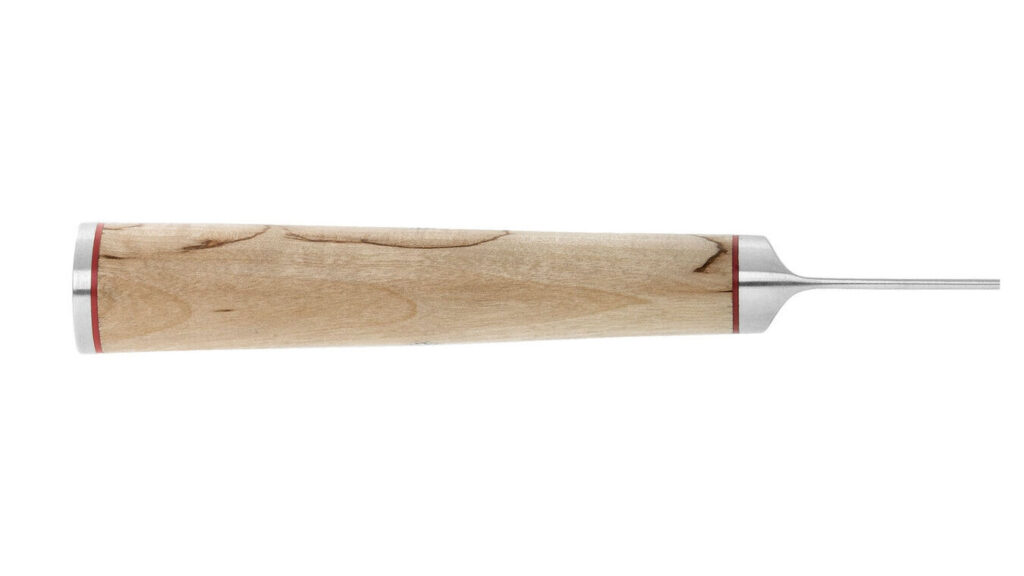 You can see the natural wooden fiber spots and curvy design on the knife. That looks really awesome with the mosaic pin at both sides of the handle. This mosaic pin makes it even more sophisticated and fixes the handle in the proper place.
The steel cap with the logo of miyabi and the two red strips at both ends of the handle add more to the beauty . This steel cap also helps to give a proper balance.
Size
Miyabi birchwood sg2 knife has a 8 inch blade which is known as the perfect size for every type of kitchen work. And the handle is 5.39 inch long . In total with other parts the total length is almost 15 inch . People with both small and large hands can hold the knife with comforte.
Weight and balance
Miyabi birchwood has an average weight of 18.8 ounce ( 1.18 pound) which may look prettier than other japanese knives. Because of the hand forging from 101 layers of damascus these knives gain a little bit more weight. But you will not feel the weight in your hand because of it's perfect weight distribution and balancing.
Balance of the knife is a little towards the handle or you can say almost between the join of blade and handle. This weight balancing will provide you with a comfortable cut. As it is a little heavier than other knives you can cut through anything without any pressure. It can cut through meat like any other soft food.
Clean and maintenance
Like other japanese knives, miyabi black 5000mcd67 8 inch chef's knives also prefer hand washing . It is properly dishwasher safe and can harm the knife . So after light use you can wash it with only water and after heavy use wash it with soap, water. You have to put it in an open place after washing so that the knife dries out and water evaporates from the handle .Otherwise it cas hamper the wooden material of the handle.
Using a wooden block or a sheath can help to store the blade and protect it's edge. As this knife doesn't come with any sheath so use a wooden block or a good wooden or leather sheath .
Handle is made with wood of very high quality and it will remain as new for years . But if you want to take more care about the handle use a mix of mineral spirit and varnish a little bit on it. It will prevent the handle from soaking in water and make it more dry and beautiful. Other users also prefer this as it brings a brilliant glow on the handle.
How the knife will feel in your hand
Whatever you care about, the feel of the knife in your hand is the most important for a knife.
As the knife has a round shape with a slight D curve at the right side it will fit properly in your hand and you will get a comfortable grip. If you are left-handed, no worries ,even left-handed people can hold it quite comfortably as the curve at the right side is not so aggressive.
This knife may feel a little heavier than knives of its size. But as the knife provides a perfect balance this little extra weight works positively. You can cut through any soft or hard food without any effort and it doesn't create pressure on your wrist even after a long use .
Pinch grip is also comfortable as the spine of miyabi birchwood 8-inch chef knife is well finished . In a word this knife ensures an extraordinary feeling in hand with an elegant look.
Warranty
Miyabi knives are made with all top quality materials both for blade and handle . So , it is obvious that they will use their best material in one of their best knives like miyabi birchwood chef's knife.
This knife comes with a limited lifetime warranty with particular conditions. I would not worry even if there was no warranty on this knife.
Customer's thought
Almost all the reviews about miyabi birchwood knife is positive with few minor negative reviews.
One negative review , one user did not like the black writing on the blade side as it may not look perfect on the beautiful damascus design. Few of them would be happier if the price was a little less .
On the other hand miyabi birchwood sg2 knife has got a lot of positive reviews as i have mentioned in this whole article about miyabi birchwood review . Users mentioned you get what you pay. Beautiful design, razor- sharp blade, incredible performance, all these qualities are mentioned by a lot of users. They are satisfied even after a long use as the knife always feels like a new knife opened from a box.
Pros
If you have read through this part of this miyabi birchwood sg2 review than pros and features of this knife should be clear to you . Still ,I am describing them brifly.
The knife is very razor-sharp and thin
With a little extra weight is can cut through hard food with extra confidant
Best core material ensures durability .
Can cut through large vegetable and meet flawlessly
Handle provide very comfortable grip
Long lasting blade core retention
Provide comfortable pinch grip
Very well balanced .
Ensures very effortless working.
Limited lifetime warranty
Cons
This knife has very few drawbacks as I have mentioned in this whole article about miyabi knives birchwood review.
Price is pretty higher than other chef knives
As it has a little more weight , needs to work with it properly
As the handle is made from wood . putting the knife without dry may cause the handle in long run
FAQ
Is the price reasonable?
Yes the price is reasonable .As it is made with premium quality materials, you will get what you have paid.
Is it made for right-hand users?
Yes , as the handle has a D curve at the right side , miyabi knives birchwood is very comfortable for right-handed people. Even left- handed people can use it quite comfortably as the D taper is not so aggressive at the right side.
Is miyabi birchwood chef's knife a full tang knife?
Yes miyabi birchwood chef's knife is a full tang knife. The blade runs through the handle to the end . This full tang ensures better durability and balance.
How to care for miyabi birchwood?
Proper caring is important for a knife to have it for the long run. Handwashing is best for this knife . And dry it properly after every use so that water evaporates from the handle.
Use a wooden block or sheath to protect the blade edge. And more care and maintenance processes are mentioned in this miyabi birchwood knife review article.
5. What are the difference between Miyabi Birchwood and Artisan?
These two miyabi knives have both similaritites and differences. They have difference in blade constructio, blade design, handle design and material. And there are some similiarites like hardness, balde material, sharpness. To know more you can go through this in depth Miyabi Birchwood vs Artisan comparison
6. Which one is better Miyabi Birchwood or Miyabi Black?
Both of this knives have eye catching look, quality material and razor sharp edge. So, it depends on you which one you prefer. These two knives have difference in term of blade material , design , handle material as well as similarities like sharpness. Here is full Miyabi Birchwood vs Black comparison.
Conclusion
Miyabi birchwood sg2 is a flagship knife in the category of kitchen chef knife. Any professional chef would love to have it in his hand while working in the kitchen.It can be considered as the Ferrari in a kitchen knife.
It's an expensive knife but I am pretty sure that it has become clear to you from the whole article about miyabi birchwood sg2 review that this knife is properly value for money.
In a word the razor-sharp blade with elegant damascus look, effortless cutting and super specific balance will impress you in the long run.
Other Miyabi Knives:
2. Miyabi Evolution Chef's Knife Review
3. Miyabi Fusion Morimoto Review
5. Miyabi Koh Chef's Knife Review