Japanese chef knives are famous worldwide for their hundreds of years old traditional crafting process. Shun is one of the most famous Japanese knife makers. They are also making knives for hundreds of years. So, if you want a knife bearing the traditional crafting with super quality material then shun premium knife could be the best option for you. It's premium quality and one of the most used knives of shun. It's a knife with a lightweight, agile, comfortable grip that users wish for. Razor-sharp edge of the blade cut, slice and chop through fruit, vegetable, and meats with perfections.
I have made a detailed shun premium chef's knife review to give you a clear idea about the different aspects of this knife. Customers though, frequently asked questions about this knife are also added here.
Quick overview
The blade core is made with super VG-MAX steel enriched with durability and hardness.
Blade length is 8 inches with a 5-inch handle.
Grounded to a 16-degree cutting angle which is very thin and sharp.
It features a full tang that adds strength and balance.
Exterior has a different layer of design. Beautiful wavy Damascus pattern at the bottom half and hammered finish of the top half.
Shun premier features a pakka wood handle.
The handle is cylindrical with a contoured shape curve.
It's a double bevel knife, which means it has sharpness on both sides.
It has a weight of 7.7 ounces which is very lightweight.
shun premier comes with a lifetime warranty for any defect
Lifetime free sharpening
Shun Premier Chef's Knife 8-inch Review
Where it's made
Shun is one of the oldest Japanese knife-making companies. Their knives are all handcrafted in Seki, Japan with an ancient traditional knife-making process. Seki is called the knife-making capital of japan. Swords and knives are being made here for hundreds of years by Japanese bladesmiths. So, you can find the years of old Japanese tradition with quality material in shun premier chef's knife
Blade Material
Blade core of shun premier chef knife is made with VG-MAX super steel. And there is 34 layer of stainless steel at both sides of the core which gives it a Damascus pattern. In total, this blade has a 69 layer of Damascus steel.
VG-MAX steel is an exclusive steel formula of shun which is the newest of the VG line super steel. It is also the upgraded version of famous VG-10 steel. VG-MAX is enriched with different components like carbon, chromium, cobalt, vanadium, and molybdenum. A high carbon component adds strength and hardness to the knife. Chromium makes the blade corrosion resistant, vanadium enhance impact resistance, and finally, molybdenum boosts the strength of the steel.
Blade Design
Shun premier chef's knife 8-inch features a traditional Japanese profile with a slight curve at both the top and bottom sides of the knife.
The most beautiful thing about this knife is the magnificent tsuchime hammered finish. 69 layers of steel which give it a wavy gorgeous Damascus pattern at the bottom half with a mirror polish. It makes the knife very resilient to stain, rust, and pitting. And the top part has a Tsuchime hammered finish. That helps the knife in two ways.

First, this hammered finish gives a sophisticated and elegant look to the knife. Next the important part this hammered finish acts like small air pockets which prevent the sticking of food while cutting. Moreover, the full blade has a beautiful shiny look.
Sharpness and edge
Shun premier chef knife features a hand-sharpened 16-degree cutting angle at both sides. That means it's a double-bevel knife with a razor-sharp edge. Sharpness on both sides makes it comfortable for both left and right-handed users. The razor-sharp edge is perfect for slicing, dicing, and chopping a full range of food with less effort.
As the blade is made from very hard and durable material, that's why it will retain its edge for a long. And there will be no need of sharpening that often.
Hardness
The hardness of any blade depends on the blade material and the making process. Shun premier 8 chef knife ensures both quality material and traditional handcrafting process which develops the hardness of the blade. VG-MAX steel contains very high carbon components that increase the hardness. And hand forging process ensures its quality. Hand steel blade retains its an edge for long, same for this knife also.
Handle material
Shun premier knife handle is made from walnut-colored pakkawood. Pakkawood is not natural raw wood, it's a composite of raisin and hardwood, which makes the knife extra durable and resistant. This material adds bright color and a unique design similar to wood to the handle.
Pakkawood handles are very easy to clean and waterproof. That means the handle doesn't absorb moisture so there is no chance of slipping from your hand. Moreover, this handle won't harbor bacteria which is important for the long-lasting of the handle.
Handle Design
The handle features an almost contoured ambidextrous shape. It has a curve at the right side which makes the grip very comfortable. And the knife won't slip from hand so easily. The full handle has a brown gorgeous look which is quite similar to wood.
The handle is comfortable for both left and right-handed persons.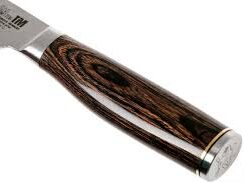 There is a steel cap at the bottom end of the handle with the logo of shunning. This provides both beauty and balance to the knife. I addition there is a black and a golden brass ring in the handle which makes the look more elegant.
Tang
Shun premier 8 chef knife has a full tang that goes through the gorgeous brown pack of wood handles. Full tang knife is always preferred over half tang knives. That adds durability and strength to the knife. Its full tang also plays an important role in the proper balancing while working with this knife.
Size
The blade length of shun premier 8-inch chef's knife is 8 inches with a handle of 5.25 inches. This handle is perfect for both small and large hands. An 8-inch blade is most preferred for wide ranges of kitchen work. But if you want a small or larger version. Then no worry, it has other two versions of 6 inch and 10-inch blades. The handle size also differs a little from the blade size.
Weight and balance
It's a common quality of Japanese chef knives is that they become more lightweight than western knives. In the same way shun premier chef's knife 8-inch is very lightweight and thin. It's only 7.7 ounces that is really light. It will feel like a part of your hand and can continue your kitchen work for a long time without pain in the wrist.
Moreover, the combination of full tang, steel end cap in the handle ensures a perfect weight distribution through the whole knife and provides proper balance at the center point.
Clean and maintenance
As all Japanese chef knives shun premier kitchen knife also prefer handwash. It's not dishwasher safe, it may damage the knife edge and create chips. So, after using wash the knife with clean water, if necessary then wash with soap quickly. After every wash put it in an open place so that it dries out.
shun premier 8-inch chef's knife doesn't come with any sheath. So, use a wooden block or a smooth sheath to store the knife. Don't put it in the drawer without a sheath, it may damage the edge. Be careful about using a magnetic knife keeper because it causes the internal structure of the blade.
For sharpening you can send to shun, they will sharpen your knife for free or use a Whetstone knife sharpener. There is another package of shun premier 8-inch chef's knife with a sharpener. You can see the price here.
How the knife will feel in your hand
With a razor-sharp edge, lightweight and effortless cutting this knife will feel like a part of your hand while working.
Round D shape handle fits in hand comfortably. Moreover, the handle doesn't absorb moisture so it ensures slipless grip.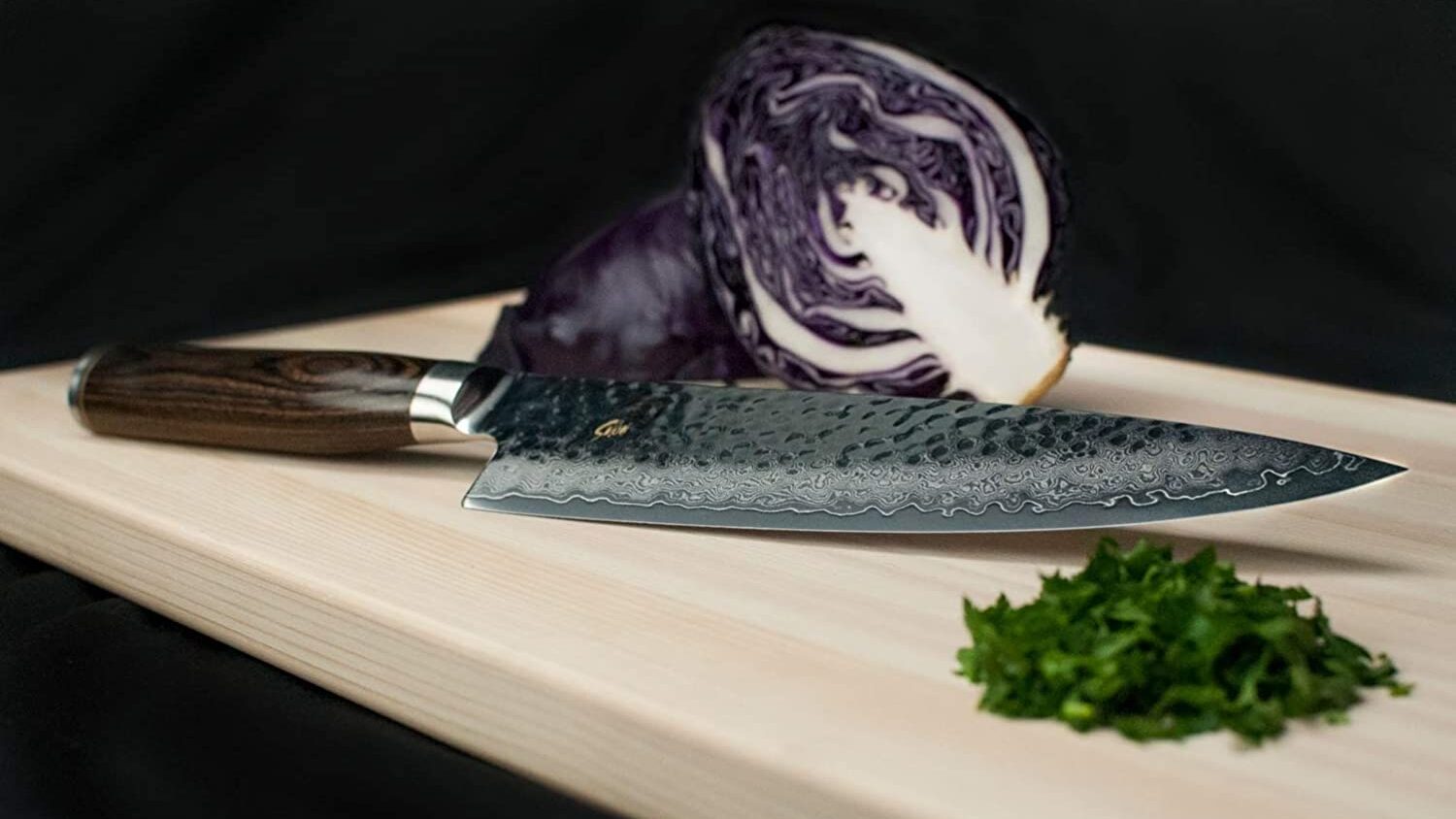 As the knife is very lightweight, you will not feel pain in your wrist after working for a long time. And sharp edge cut through any food easily so it doesn't need to create pressure while cutting.
The balance of the knife is almost at the center so you will get used to the knife very easily.
Warranty
It's one of the most unique qualities of shun knives is that they provide a lifetime warranty with free sharpening until you own it.
You may know from this shun premier review that as one of the most famous Japanese knife makers shun has full confidence in their knives. So, they provide a lifetime warranty on their knife. If you find any defect in your knife just send it back.
You will also get free sharpening. Sharpening a knife with someone expert costs a good amount from your pocket and it may be hard for us to sharpen a knife at home. So, shun will sharpen your knife for free if you send it to them and you will get sharpness as new every time.
Customer's thought
Most of the reviews are positive about shun premier knives with few negative points.
One guy was not satisfied with the only handwash. He told that if you use the dishwasher for this knife then it may cause a chip in the blade and damage it. If the prize was a little less then it would be more reasonable for them.
But most of the other comments are positive and mentioned about the qualities of shun premier cooking knives as I have described in this whole article about shun premier chef's knife 8-inch review. A lot of the praise about the lightweight and beautiful design.
Pros
This whole shun premier 8 chef knife review explains the features and pros of this knife. Let me gather them briefly once again.
Very lightweight and easy to use.
Pakkawood handle gives a comfortable grip
Waterproof slipless handle
Razor-sharp edges provide an effortless cut.
Premium steel blade is very durable
Hammered finish prevents sticking of food while cutting
Great weight distribution and balance
Comes with a limited lifetime warranty
Free sharpening till you own it
Cons
You will hardly find a few drawbacks about shun cutlery premier 8 chef's knife, hope it's clear now from this whole kai shun premier chef's knife review. Let me mention them briefly.
It's not properly dishwasher safe as most of the Japanese chef knives
The price is a bit higher.
As it comes with a very sharp edge, need extra caution while working.
FAQ
Is shun premier 8 inches or 6 inches?
This knife comes in both 6 inches and 8 inches. Moreover, it also has a 10-inch version. Blade core material, building process, design, handle material all are the same for 6 /8 /10 inches. Just differences in the size of the blade and handle. With that, the price may differ over different sizes as mentioned in this shun premier knife review.
How to sharpen shun premier knives?
You can use a whetstone knife sharpener to sharpen this knife or it is more preferred to send it to shun. As shun provides free sharpening for their knives as mentioned in the warranty part of this shun premier 8-inch chef's knife review. You can also have the package of shun premier chef's knife with a sharpener.
Is the shun premier chef's knife ambidextrous?
Yes. Shun premier chef knife has a contoured ambidextrous handle. It's comfortable for both right and left-handed persons. You can use it for slicing, chopping, or dicing with both hands.
I am not a professional. Is shun premier the right choice for me?
Shun makes excellent knives and almost all of their knives are good for every skill level. In the same way, shun premier 8-inch knife is a perfect choice for both beginner or professional chefs. Everybody who loves to work in the kitchen can use it comfortably and you must have got this from this shun premier chef knife review.
5. What are the differences between shun premier and kaji knife?
Shun premier and kaji has differences in term of balde material, consturct and Design. Handle design is also different. But there is also some similarities. Here is full Shun Premier vs Kaji Comparison.
Conclusion
With durable material, solid construction shun premier knife is one of the best Japanese knives that you can have. And pretty sure that you have got a clear idea about the beauty and quality of shun premier from this shun premier chef's knife review.
While a low-quality knife with a dull blade can make your cooking experience horrible. A lightweight, razor-sharp like Kai shun premier chef knife can make your cooking experience smooth and enjoyable. With proper caring, this knife will company you in the kitchen for very long.
Other Shun Knives:
1. Shun Kanso Chef's Knife Review
3. Shun Premier Santoku Review