Dalstrong shadow black, one of the unique and latest collections of Dalstrong. With the exceptional futuristic design, this knife can catch anyone's eye at first glimpse. But this beautiful midnight black design isn't its main attraction. Its performance is ensured to deliver the heist level of satisfaction during your culinary journey, which is its main attraction. So, if you want an excellent designed all-around knife for your kitchen, then dalstrong shadow black chef's knife is an affordable and great choice for you.
If you want to know more about the features of this beautiful knife then let's drive deep into this detailed dalstrong shadow black review. I have also added the customer's question and thought about this knife here. 
Quick overview
The blade core is made with high carbon -7CR17MOV-X vacuum treated steel.
It has 58+ Rockwell hardness that ensures top-of-the-line performance.
Each shadow black series blade comes with a black Titanium Nitride non-reflective coating that makes it corrosion resistance and non-sticky.
Full tang blade for durability and strength
Hand honed 16-18 degree clean, precise cutting edge.
The handle is made with G10 which is a durable resin material.
The ergonomic shape of the handle ensures a comfortable and slipless grip.
Comes with a sheath to store the knife safely.
Limited lifetime warranty with a money-back guarantee.
Dalstrong shadow black series review
Where it's made
Dalstrong shadow black chef knife is a unique production of Chinese knife-making company Dalstrong. Dalstrong has come to the market later than other famous knife makers. But now it is one of the fastest-growing knife companies with thousands of chefs and a loyal community.
Though it is a Chinese company, each knife is crafted by professional craftsmen. You will feel the love and dedication of work in the knife. They care about every detail of the knife, even about the tiniest packaging details.
Blade material
The most identical part of dalstrong shadow black 8 inch knife is its blade steel. It is made with high carbon 7CR17MOV-X vacuum heat-treated steel. This is a super tough German steel also known as ThyssenKrupp. Germany is well known for producing the best quality knife blade steel with longevity and hardness.
Component and precious forging make the blade long-lasting. Chromium components in the steel ensure stain resistance. The high amount of carbon component makes it hard and durable. Moreover, as the knife is made from a single piece of steel it can undergo a great amount of pressure without any damage.
Blade design
The whole blade features a sophisticated midnight black look, which is the most unique feature of this knife. A non-reflective titanium nitride coating ensures this beautiful look. This layer not only adds beauty but also makes the blade corrosion resistant, increase the toughness of the blade. Moreover, it also enhances non-stick properties.That's why food doesn't stick to the blade while cutting.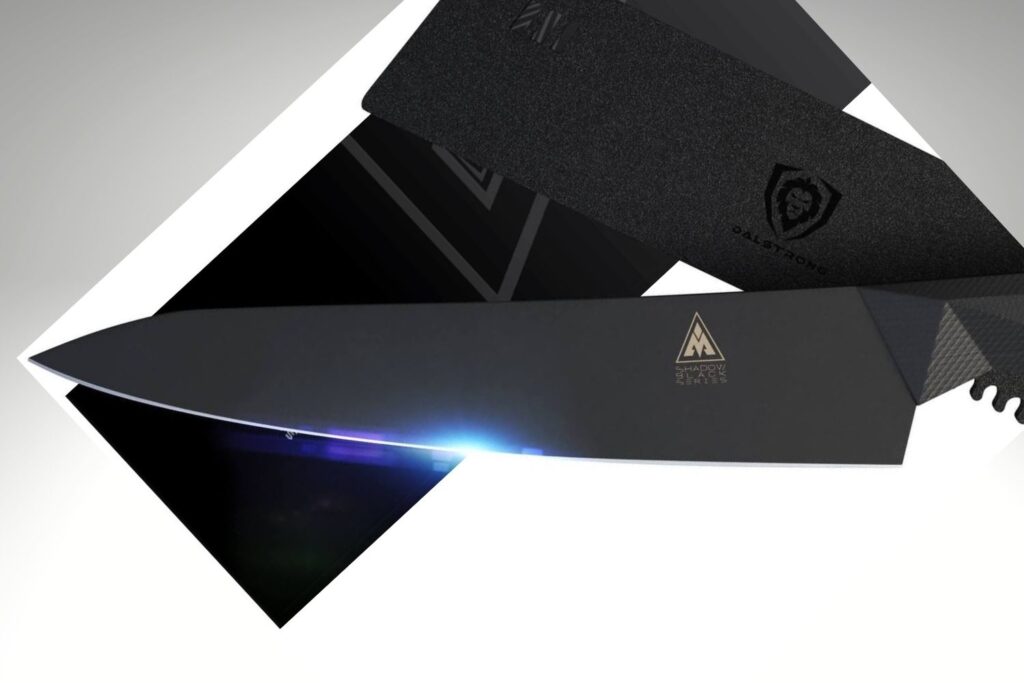 The shape of the blade can be compared with the premium shogun series chef knife of the same company. It has a slight curve at the top part and a more aggressive curve at the bottom part. In addition, You will find a beautiful Dalstrong and shadow black series logo on both sides of this beautiful hand-polished satin finished blade.
Sharpness and edge
A sharp edge can ensure a precise, clean and effortless cut. But extra sharp edge can cause the resilience and longevity of the edge. Carefully tapered dalstrong shadow black knife and its calculated geometry ensures the perfect balance between performance and resilience. The edge shadow black is hand sharpened to 16-18 degrees per side. 
Expert bladesmiths use the traditional 3 step Honbazuke method to ensures this ruthlessly sharp scalpel-like edge. At first two steps, the edge is sharpened in vertical and horizontal sharpening
Stone. Finally, it is mirror polished in leather for extreme sharpness.
It is a double bevel knife so it is comfortable for both left and right-handed people. Moreover, as it is made from tough steel it will retain its edge for a long.
Hardness
Hardness ensures the longevity, durability, and edge retention of knives. And this hardness depends both on the steel component and the crafting process of the knife. Dalstrong shadow black 8 inch chef's knife has a 58+ Rockwell hardness which points to the tough hard territory.
Every piece of shadow black goes through intense heat treatment. A deep freeze nitrogen cooling process is used which enhances durability along with flexibility. This amount of hardness ensures that nothing will be able to damage the knife under normal use. Moreover, the edge remains sharp and undamaged for a long. 
Handle material
Dalstrong shadow black series features a military-grade G10 handle. G10 is a very durable fiber resin material. It makes the handle nearly impervious to cold, heat, and moisture. As it doesn't absorb water or moisture it last longer than other material. Moreover, the slight texture provide adds anti-slip properties to it.
Handle Design
Handle features an ergonomic shape with a unique geometry. The aerodynamic lines on the handle and the whole handle are uniquely designed to tuck snuggly into your palm. The handle geometry is inspired by the F-117 Nighthawk stealth Fighter. Though the handle structure is different than any other knife, it provides maximum comfort and grip while working. Both left and right-handed people cans use this with the same comfort.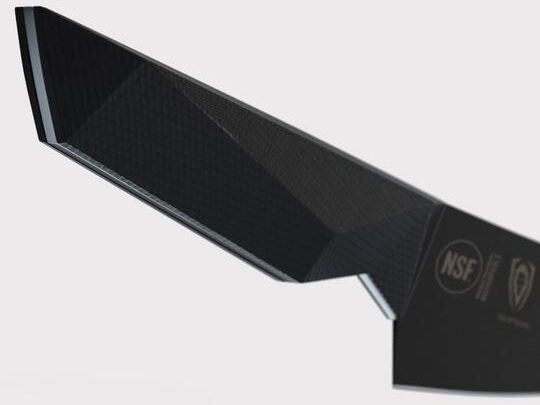 Tang
dalstrong shadow black chef's knife is a full tang knife that means the blade goes through all the way of the handle to its end. The tang is visible from the upper and lower part. Full tang is always preferred over half tang. Because full tang adds more durability, balancing, and longevity to the knife. 
Size
dalstrong shadow black 8 inch has a total length of 15.2 inches. The blade is 9.5 inches long and the remaining length of 5.71 inches is the handle. This size is quite perfect for almost all kinds of kitchen work. And the blade is 1.85 inches in size at its maximum width.
If you want a smaller version then you can look for the 8-inch version. Handle length and price may differ in that case.
Weight and balance
Dalstrong shadow black has a weight of only 10 ounces, which is pretty lightweight according to its size. So, it will not create any pressure or pain in your wrist even after long use.
Full tang, handle weight all these properties ensure proper weight distribution and balance of the knife. The balance is almost at the joining point of the blade and handle. So, you will get used to the knife very quickly.
Sheath
Shadow black 8 inch chef's knife comes with a matching black space-saving sheath made from polymer. You can find the logo of Dalstrong on the black surface of the sheath. So, you don't need to worry about storing this knife. Moreover, you don't need to buy any extra wooden block or sheath for it. If you take care of the knife and sheath, both will accompany you in the kitchen for a long.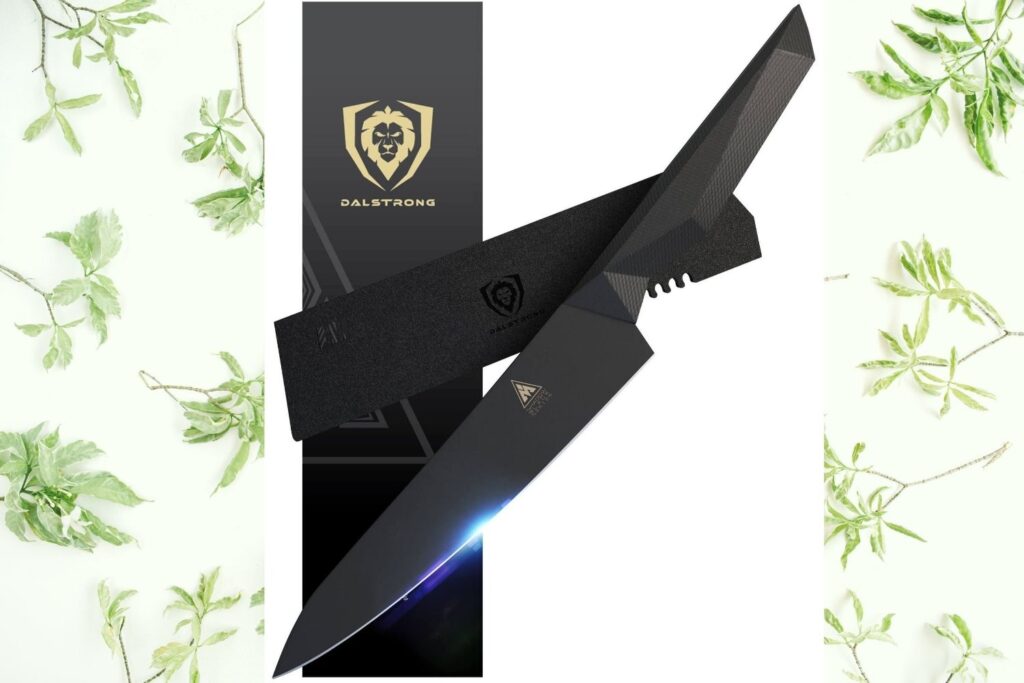 Clean and maintenance
Every chef knife needs proper cleaning and care for maintaining its condition in the long run. Because of the titanium nitride coating on dalstrong shadow knives , it is quite easy to clean and take care of it. This coating prevents damage from moisture or food liquids.
Even though this knife is dishwasher safe, hand washing is always recommended. Hand ensures to prevent any potential damage in the long run. Wash with clean water and cloth after every use. After that, just put the knife in an open place so that it dries out quickly.
To store the knife after every use, you can simply use its own sheath. Never put the knife in the drawer without any sheath, that may harm the edge of the blade. You can also use different sheaths or wooden blocks. But try not to use a magnetic knife holder that may damage the internal structure of the knife.
How the knife will feel in your hand
A knife may be beautiful, unique, or durable, but at last, the thing that matters most it's feeling in hand while working.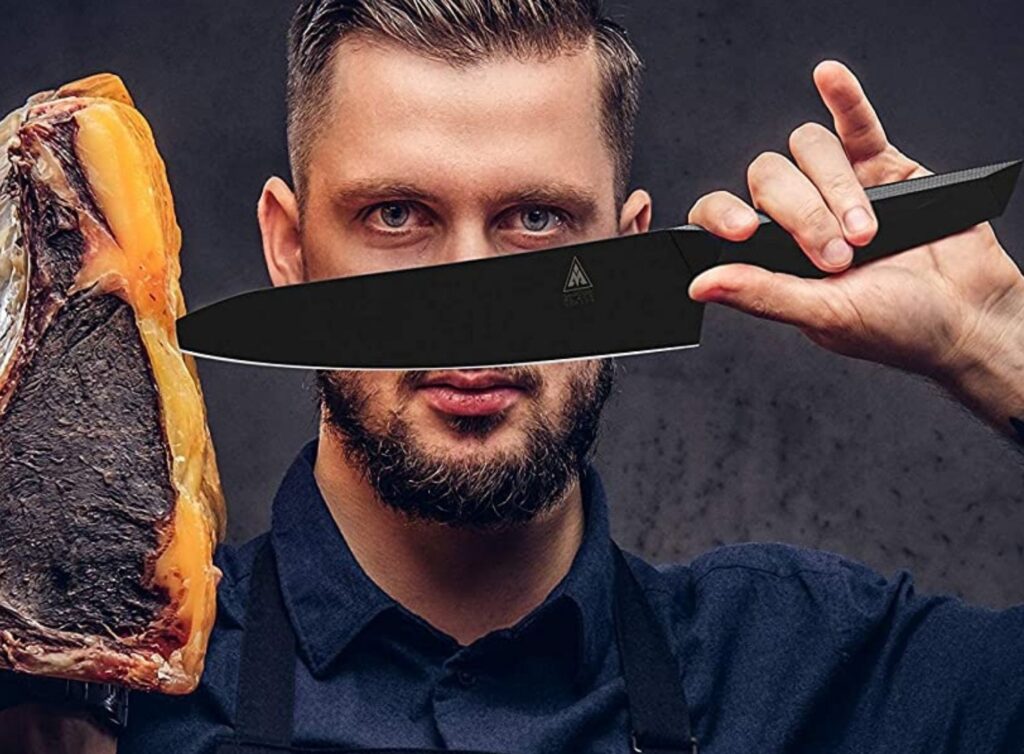 The handle may look different but it fits into the grip comfortably while working. The texture and lines of the handle ensure a slipless grip. Handles' tapered bolster and the smooth finished spine ensure a comfortable pinch grip. So, you can precisely work with a pinch grip.
With the razor-sharp edge, your cutting will be smooth and it will not create any pressure on your wrist. Even it will feel like a part of your hand once you get used to it.
Warranty
Dalstrong makes their knife with all quality materials and expert craftsmen. They use high-quality custom imported steel using premium materials all over the world. So, they have enough confidence in their knives. That's why provide a limited lifetime warranty for their product. For any kind of manufacturing defect, you will get free warranty service from dalstrong customer service.
Along with the warranty they also provide a 100% money-back guarantee if you are not fully satisfied with the knife.
Customer's thought
Dalstrong 8 inch shadow black has received a lot of positive reviews from the users.
There is a few negative thing customers have mentioned. When it comes to sharpening it, the coating may come off if you are not careful enough. Another person was not satisfied with only cold water cleaning as suggested for this knife. He wanted to use warm water to clean the knife properly.
And most of the other reviews are positive reviews. They mentioned about those unique features of this knife as described in this whole dalstrong shadow black review. They were impressed by the razor-sharp edge and sophisticated look. One of the customers praised about the customer service. He got the replacement of the knife in one day.
Pros
This full dalstrong shadow black series review is about different features and pros of dalstrong shadow black chef knife . Let me gather them here briefly.
Very sharp with precise cut
Lightweight so doesn't create pressure in hand while using.
It looks sleek and sits in the hand very well.
The coating makes it corrosion resistant and adds strength.
The knife is nonstick, so food doesn't stick to it while cutting.
G-10 handles heat water and moisture resistance.
Very well balanced
Comes with a polymer sheath so no worry while storing.
Limited lifetime warranty for any defect.
100% money-back guarantee.
Cons
You will hardly find any drawbacks in this knife as I have mentioned in this whole dalstrong shadow black chef's knife review . However, let me explain them briefly.
The black coating may damage while sharpening if enough care is not paid.
Only cold water can be used to wash it, warm water can't be used.
Sometimes it comes with a weird smell but that goes away after a few use.
FAQ
Will this knife discolor?
If the knife is washed properly with cold water and dried properly it will not discolor. Otherwise, storing the knife without washing food or vegetable liquid from the knife may cause damage to the beautiful black color.
Does black color wipe out after sharpening with stone?
There is an uncoated area above the knife-edge so that the black coating won't be scratched off when the knife needs to be sharpened.
Where is this manufactured?
Dalstrong knives are manufactured and assembled by expert bladesmiths in YangJiang, China. It is a renowned city for knife crafting for 1500 years. They use premium materials from different countries like Japan, Germany, or Spain. You may know all this from the beginning of this dalstrong shadow black 8 inch review.
Will this knife work for left-handed?
Yes, the knife is double beveled and the handle is ambidextrous, so it will serve both left-handed and right-handed users well. The handle will fit in both hands comfortably.
Is dalstrong shadow black 8 inch dishwasher safe?
Yes, this knife is dishwasher safe. But hand wash is always preferred for the longevity of the knife. Just use water wash after every use. Or you can use soap and water after heavy use if necessary as mentioned in the clean and maintenance part of this dalstrong shadow black series review.
Conclusion
At the end of this dalstrong shadow black review, I am pretty sure that this unique knife has managed to impress you or has left you wondering if you want such a beautiful knife in your kitchen. 
This knife can take care of all your general meal preparation satisfying your want for a high-quality chef's knife. Moreover, it's very reasonably priced and comes with an excellent satisfaction money-back guarantee with a lifetime warranty. So, there is no risk in try this beautiful black piece of a super sharp knife.